Our deck boards are a versatile product made from a composition of wood, recycled plastics and additives. This combination results in a d urable, attractive and effective low-floor deck and costs and no maintenance. Our deck offers the natural beauty of wood with a durability far superior, it can be used on both sides presenting each a different texture. The fixation is hidden by clips made of stainless steel, ensuring a regular spacing between boards over the entire surface.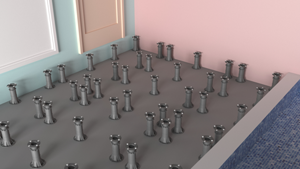 1º Planteamos superficie
Replanteamos la superficie y colocamos los Plots a la distancia adecuada: Según la disposición deseada de las lamas en el entarimado (distancia recomendada entre plots máxima de 60 cm.). Es importante disponerlo todo para que las juntas de testa coincidan con los rastreles.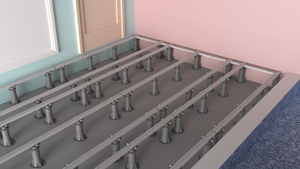 2º Montamos esqueleto y nivelamos
Colocamos los rastreles, montando el esqueleto según medidas y peso de tarima. Seguidamente procedemos a la perfecta nivelación de los rastreles.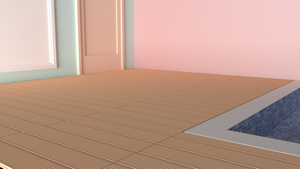 3º Instalamos primeras lamas
Comenzamos a colocar la primera hilada de lamas de tarima empezando por una esquina de la zona a entarimar. Las juntas de testa habrán de coincidir siempre con los rastreles.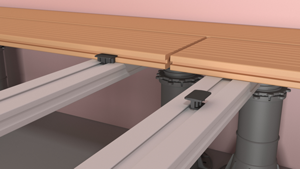 4º Fijamos lamas al rastrel con "Anclajes"
Colocación en rastreles y lamas de fijaciones en ranura.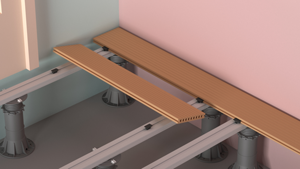 5º Continuamos con lamas contiguas
Continuación de montaje según lo establecido en pasos anteriores.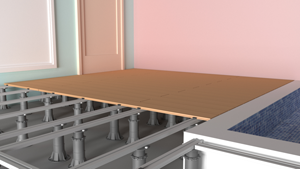 6º Finalizamos instalación
Terminación completa y segura de sistema peygran.
Montaje rápido y versatil
La cabeza regulable se gira para ajustar la altura y nos permite ajustar de forma exacta la estructura rastrelada. Ahorramos tiempo de colocación, precisión de la instalación y resistencia total del pavimento.
El "Crip rastrel" se puede girar 360º para instalar el rastrel con los grados deseados y así poder construir un sólido armazón de aluminio.